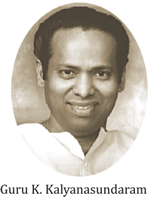 About GURU KALYANASUNDARAM
Hailing from a family of Nattuvanar parampara, traditional dance teachers, now in its eight generation – Thiruvidaimarudur Kuppiah Kalyanasundaram made his debut at the age of six at the Sri Kumbeswaran Temple(of Maha Maham fame) Kumbakonam- Tamil Nadu, on the auspicious day of Aarudhra Darsanam.
He imbibed the art from his father Guru Kuppiah Pillai, his brother Guru Mahalingam Pillai, his brother-in-law Guru Govindraj Pillai and sister Smt. Karunambal. He learnt carnatic music from Vidwan Alathur Panchapakesa Iyer and mridangam from Vidwan Raghunatha Iyer.
His ancestors were honoured in the royal courts of Baroda, Mysore, Ramanathapuram and Thanjavur, - then princely states. Most distinguished among them were Vidwan Venkatakrishna Nattuvanar the Asthana Vidwan of King Serfoji, and his grand father Vidwan Panchapakesa Nattuvanar , an authority on Abhinaya, is - the author of Abhinaya Navaneetham, in Tamil, based on Abhinaya Darpanam.
His dance dramas Thirukkutrala Kuravanji( Vasantavalli) Sri Andal, Skanda Leela, Krishna Leela, Charana Paduka, Thyagabrahmanjali, and dance productions- PurandaraVandana, Jaya Jaya Krishna, Pancha Kanya, Jaya Jaya Shankara, Bhakthi Nritya, are well received for their rich tapestry of choreography, music and literature. He was the leader of a 10-member dance troupe representing India at the International Arts Festival of China. He had presented thematic programme at the Manifestations of Shiva-World Meet, Philadelphia and also at other International dance festivals in Australia, America, Canada, Europe Indonesia, Columbia, Mexico, Japan, Malaysia, Singapore & Nepal. Exclusive compositions of Mahakavi Bharathi( presented at Bharathi's Centenary at his birthplace Ettayapuram in 1981)and Saint Purandaradasa( presented on his 500th birth anniversary at Delhi in 1984) are notable among the presentations of other composers. In 1986- he had choreographed along with imminent gurus ,Pt. Birju Maharaj, Guru Kelucharan Mohapatra and Guru Vempatti Chinnasatyam, of the other classical dance forms, a widely acclaimed presentation 'National Integration through Dance'.
Guru Kalyanasundaram's students have featured at prestigious dance conferences and festivals in India and abroad. In 1989, he led a 10 - member dance troupe to participate in the First International Arts Festival of China and presented a programme at Singapore to celebrate the centenary of Pt. Jawaharlal Nehru.
The latest offerings 'Mahatmanjali' a unique production based on the noble ideals of Gandhi, 'Nandanar' a moving dance drama of the great devotee of Lord Nataraja presented at Los Angeles and Isai Vani Nrityanjali centenary tribute to Bharat Ratna M. S . Subbulakshmi by hundred dancers, have received great admiration.
He continues to enthral the audiences with his productions and various unique choreographies.
For his outstanding contribution to the art of Bharathanatyam some of the Awards & titles conferred upon him are:
• Sharangdev Fellowship by the Sur Singar Samsad, Mumbai
• Natya Kalanidhi- Thyagaraja Sabha, Coimbatore, Tamil Nadu
• Kalaimamani –1994, Govt. of Tamil Nadu
• Natya Selvam –1996,Muthamizh Peravai
• Sangeet Natak Akademi Award –Govt. Of India(1999-2000)
• Best Teacher and Choreographer Award- Madras Music Academy 2002
• Asthana Vidwan Kanchi Kamakoti Peettam -2003
Conferred During the Golden Jubilee Peetarohana Celebrations of His Holiness Sri Jayendra Saraswathi Swamigal of Kanchi Peetam
• Sri Shanmukhananda - Dr. M. S. Subbulakshmi Best Teacher Award 2004,
• Sri Shamukhananda Fine Arts and Sangeetha Sabha, Mumbai.
• Natya Ratna Award – Sri Shanmukhananda Sabha , New Delhi, 2005
• Bharatha Kalai Sudar by Pollachi Tamil Isai sangam as part of their silver jubilee celebration function, Pollachi,2010
• 'Nritya Ratnakara' at the Cleveland Aradhana Festival, 2010.
• Bharatha Rishi- Melattur Bhagavatha Mela Sangham
• E Krishna Iyer Medal- Sruti Magazine And Sruti Foundation, Chennai, 2012
• Natya Kalanidhi- ABHAI, Chennai, 2012
• Nada Brahmam - Narada Gana Sabha, Chennai, 2016
• Natya Kalasikhamani- Indian Fine Arts Society, Chennai, 2018.
Full Length Programmes of Exclusive Compositions of Great Poets ADI SANKARACHARYA,
MAHAKAVI SUBRAMANYA BHARATHI SAINT PURANDARA DASA, SAINT THYAGARAJA, SRI PAPANASAM SIVAN SANGEETHA KALANIDHI G.N.BALASUBRAMANIAM
DANCE DRAMAS
1) VASANTHAVALLI -THIRIKUTTRALA KURAVANJI : based on the 17th century Tamil Classic ( Vani, Meera, Preethi & 16 artistes)
2) SRI ANDAL : based on the immortal Thiruppavai( Viji Prakash, Asha Amarnath & 12 artistes)
3) SKANDA LEELA : portraying the various divine deeds of Lord Karthikeya ( Vani, Meera, Monisha Patil &10 artistes)
4) KRISHNA LEELA: based on the divine lyrics of Saint Poets (Lata, Preeti, Gowri, Padmaja, Manisha & 10 Artistes)
5) CHARANA PADUKA : based on TULSIDAS RAMAYAN , Music by Sangeet Martand Pt. JASRAJ ( Amla, Manisha, and others)
6) THYAGABRAHMANJALI : based on the glorious kritis of the great Saint Thyagaraja.
7) Nandanaar Charitram : based on the musical opera of the poet Sri Gopalakrishna Bharathi ( Viji Prakash, Harikrishna Kalyanasundaram, Mythili Prakash and 15other artists)
Thematic Presentations
OM SARAVANA BHAVA Based on the devotional compositions of ancient Tamil Poets Nakkeeran, Arunagirinathar and also Bharathi &Thyagaraja on Lord Karthikeya Solo by Preeti
JAYA JAYA SANKARA Based on the compositions of various poets on Adhi Sankaracharya & also important works of Adhi Sankara Solo by Sunitha Pillai
THYAGABRAHMAM Based on Exclusive Compositions of Saint Thyagaraja Solo by Gowri
JAYA JAYA SANKARA A Group Presentation Based on the Divine Works of Adi Sankaracharya
JAYA JAYA KRISHNA Based on the great works of the Saint Poets of India Solo by Lata Pada
PANCHA KANYA Based on the immortal episodes of the Epic Heroines AHALYA, DRAUPATHI, SITA, TARA & MANDODHARI Solo by Vani Ganapathy
SHAKTI A group presentation Glorifying the great powers of Goddess Parashakthi In her various manifestations
Bhakthi Nritya A group presentation Based on the classics of Saint Poets of India Adi Sankara, Mahakavi Kalidas, Thiruvalluvar, Tulsidas, Sant Tukaram, Meerabai & others
A few excerpts from the press:
May, 1989
Singapore
The Aristocrat of Indian Dance
Versatality marks the well known Indian Bharatha Natyam choreographer Kalyanasundaram from other dance gurus and choreographers......
The Globe and Mail
Ontario, October 17, 1990.
Colorful, dramatic detail enlivens ancient art form
India's Guru Kalyanasundaram is his country's Balanchine.
Although the distinguished Indian choreographer hails from the East and Balanchine from the West, their motivation is the same : breathing new life into a centuries - old art form. Guru Kalyanasundaram has taken Bharata Natyam, a style of dance that originated in thecountry's holy temples, and updated it without breaking down its traditional form. He has enlarged the iconographic vocabulary with colorful, dramatic detail that lends this ancient dance style a heightened sense of narrative flow . . . .
Express India
Washington Nov., 2, 1990 -
Jaya Jaya Krishna
His Nattuvangam and his choreography, were brilliant. He has imaginatively blended dance forms and musical systems,....
Guru K Kalyanasundaram, suave, articulate and urbane is also a fine example of the Guru - Sishya parampara....
India Currents
Stanford, November 1990.
Upholding the tradition of Thanjavur
With Guru Kalyanasundaram's imaginative choreography and direction, this concertpromises to be a rewarding experience for all lovers of Indian dance . . . .
News India
New York, November 16, 1990
Teaching Through Live Instruction And Direct Experience
In Guru Kalyanasundaram Pillai's approach to teaching dance,is embedded an ancient institution of transmission of knowledgethrough live instruction and direct experience...he notes that " Art cannot be measured in graphic movements or guiding the feet. It must have its own life.....
Traditional Dance Compositions Of Natyacharyas and Compositions of poets in Various Languages Compositions of
The Tanjore Quartet
Maharaja Sarfoji
Maharaja Tulajaji
Maharaja Swati Thirunal
Mahakavi Kalidas
Sri Jayadeva's Geeta Govindam
NarayanaBhattadri's Narayaneeyam
Saint Leela Sukhar's Krishna Karanamrutha Slokas
Saint Tulsidas
Saint Surdas
Meerabai
Saint Annamacharya
Purandaradasa
Kanakadasa
Saint Thyagaraja
Shyama Sastri
Muthuswamy Dikshitar
Sant Tukharam
Sant Gynaneshwar
Earliest Tamil Saint Poets
Sri Andaal & other Vaishnava Poets
Sambandar & other Saiva poets
Saint Arunagirinathar(Thirupugazh)
Thiruvalluvar's Thirukkural
Kambar – Kamba Ramayanam
Elangovar's Silappathikaram
Avvaiyar's Agaval
Gurudev Rabindranth Tagore
Saint Narsi Mehta
Mahakavi Subramanya Bharathi & also the National Poets of Nepal, China & Indonesia