Guru Harikrishna Kalyanasundaram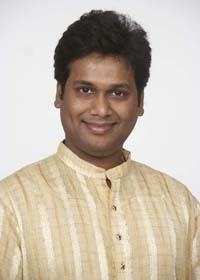 About Harikrishna Kalyanasundaram
Sri Harikrishna Kalyanasundaram hails from the family of traditional Natyacharyas (Dance teachers) representing the seventh generation of a legacy of ancestors patronised by King Serfoji of Thanjavur, the royal courts of Baroda and Ramanathapuram and which has been imparting Bharatha Natyam in traditional Thanjavur style for the past 300 years, his great grand father was the illustrious 
Panchapakesa nattuvanar 
author of Abhinaya Navaneetham.
He has imbibed this great art form from his grand-father, 
Bharatha Vidwan Guru Kuppiah Pillai
, his uncle 
Natya Kalanidhi, Kalaimamani Guru A.T. Govindraj Pillai
, his uncle 
Bharatha Vidwan Kaliamamani Guru T.K.Mahalingam Pillai.
Harikrishna had his initial training under his elder cousin 
Guru G. Vasanth Kumar
, and also imbibed the art from his elder cousin 
Guru M. Vishwanath
 after which he underwent rigorous training under his illustrious father, 
Natya Acharya Guru Kalyanasundaram
Some important solo dance performances in India and abroad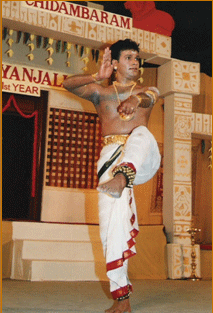 The Uday Shankar Centenary Celebrations,
Nehru Centre, Mumbai. (this show was jointly hosted by the Cultural Ministry, Govt Of Maharashtra).
Natyanjali Dance Festival,
Chidambaram. 
Swar lahari,
Tejpal Auditorium, Mumbai. 
South Zone Cultural Festival,
Thanjavur. 
The ABHAI Festival, Narada Gana Sabha,
Chennai. (most unique feature of this performance was, he represented the seventh generation of the legacy of Thanjavur Parampara, that evening which also had the performances of Shri VP Dhananjayan, Sri CV Chandrasekhar and Sri Narasimhachari). 
NRITYA PRATIBHA FESTIVAL,
New Delhi organised by the Sangeet Natak Akademi.
The Parampara A legacy 
- At JamesArmstrong Theatre, Los Angeles .
Initiated at the age of 4 to undergo intensive training in mridangam, under the great
Mridanga Vidwan Karaikudi Chandramouli
,in Shanmukhananda Fine Arts and Sangeetha Sabha from 1980. Harikrishna under the guidance of his Guru emerged as one of the promising talents of the future. A Gold medallist in the West Zone Inter School Competition, he was the youngest to perform at the Raj Bhavan for the Governor of Maharastra ,along with a Czech violinist, at the age of 17. For the past seventeen years, he has been a regular feature of the Sri Rajarajeswari Bharatha Natya Kala Mandir troupe, accompanying his father Guru Kalyanasundaram, his uncle Guru T K Mahalingam Pillai and his cousins Guru G Vasant Kumar and Guru M Vishwanath, on the mridangam. He has performed at major festivals of India , to name a few The Sangeet Natak Akademi awardees Festival, New Delhi , The Dover Lane Music Conference, Calcutta, The ITC Festival, Madras, the Pune Festival, Nritya Sangam, Hyderabad, Kinkini Festival, Bangalore, The Goa Tourism Festival, The Jammu Festival of Music & Dance, The Modhera Festival Of Dance, The Heritage Festival, Tripura. Has regularly toured the abroad for the past ten years at major centres of arts in more than 25 cities in USA and Canada, Singapore, Nairobi and Qatar..
Harikrishna holds the unique distinction of having performed a rare triple feat at the highest level as a mridanga vidwan, as a solo classical dancer and also as a nattuvanar(weilding the cymbals & dance choregraphy)in prestigious festivals in various cities in India and abroad, (many at different dates but at the same venue), Natyanjali Chidambaram, Thanjavur Brihadeeshwara temple, South Zone Cultural Centre, important temple festivals in Kumbakonam, various venues in New Delhi and Mumbai and also in many cities in the United States of America .
As one of the directors of Sri Rajarajeswari Bharatha Natya Kala Mandir, Guru Harikrishna is actively involved in teaching, conducting performances and
arangetrams,
 creating new work and staging them for which he has received rave reviews for his choreography and 
nattuvangam.
Choreographer, composer and conductor, has acquired extensive knowledge and expertise through long years of training, research and performances. Harikrishna Kalyanasundaram has a distinctive approach to creating new classical repertoire and has created several new compositions for dance which have been showcased by dancers in India, USA and Canada.
Harikrishna is a commerce graduate from the R.A. Podar College of Commerce and Economics.  and has done a diploma course in Sanskrit from the Mumbai University .Harikrishna is undergoing intensive training in vocals under the guidance of 
Smt. Alamelu Mani, 
of the Sangeeta Kalanidhi Smt. T Brinda school. Currently, Harikrishna is pursuing advanced studies in Sanskrit under Prof PG Shukla, Bharathiya Vidya Bhavan  and will be appearing for  his Kovid exams  in Sanskrit literature and Bhagavad Gita,