Guru Harikrishna Kalyanasundaram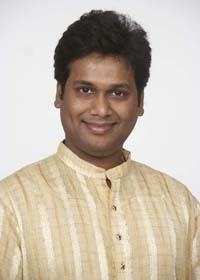 Press of Harikrishna Kalyanasundaram
The season also saw the emergence of a young choreographer in Harikrishna, not only proved that he is a good choreographer , but also a music composer and master teacher to keep track of. The young guru is a multi talented personality with his skill in playing mridangam, singing, as well those already mentioned, music and dance choreography. Harikishna's wife Vidya, with her mellifluous singing, is a great asset to the family.  Guru Kalyanasundaram can take pride that the great Thanjavur tradition of this family of nattuvanars has been passed on to the next generation effectively. 
Nartanam, K Subhadra Murthy
It was heartening to see young Harikrishna, son and disciple of Guru Kalyanasundaram of Rajarajeswari school present a couple of items with lot of commitment to their artistic lineage.
The Hindu, Smt Nandini Ramani
Evoking Nataraja, 
a special feature on the commitment of Indian male dancers from different dance styles and photography, a dramatic synthesis of two incredible art forms and a celebration of their common commitment to aesthetics.
L'Officiel A French Fashion magazine
Bhakti Bursts Forth….. 
……the dance was sensitively tuned by Harikrishna Kalyanasundaram………..
The Hindu, Rupa Srikanth