Guru Harikrishna Kalyanasundaram
Choreography of Harikrishna Kalyanasundaram
As one of the directors of Sri Rajarajeswari Bharatha Natya Kala Mandir, Guru Harikrishna is actively involved in conducting performances and 
arangetrams,
 creating new work and staging them for which he has received rave reviews for his choreography and 
nattuvangam.
Vaishanava Jan 
 : A Thematic presenatation which brings out the virtues of Peace, Non violence and tolerance and devotion as told to us by the great saints of India. 


Dance for Peace
– A grand Bharatha Natyam and Kathak Jugalbandhi for the launch of Lokakshemam, a non profit arts organization.
Kavya Natyam
 an evening of classical Bharatanatyam celebrating the timeless classics of Tamil poetry presented in Toronto Canada, produced and presented by Lata Pada and Sampradaya Dance Creations


Master Teacher
As a dynamic master teacher he has regularly been touring North America and Canada and teaching in master classes and dance camps by Shakti Dance Academy of Viji Prakash,
Sankeerna Alarippu     10 ½ beat thillana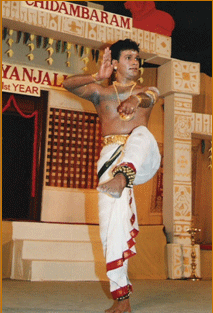 and been part of several productions presented by Viji Prakash in Los Angeles.
In Canada , has been regularly conducting master classes at Sampradaya Dance Academy of Lata Pada, and been part of several productions by Lata Pada in Toronto.
He is extremely popular for his repertoire which among works of established musicians also consists some of his own musical works to name a few, Sri Rama Kavuthvam, Charukesi Jathiswaram, Keervani Varnam,, 10 ½ beat Nasikabooshani Thillana (such a tala cycle performed first time ever on the dance stage) among others.